Detailed Where About Of Tufted Carpet
Posted by Admin on October, 07, 2021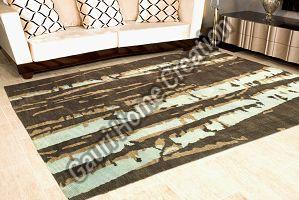 Carpet is a textile used for covering the floor. A carpet consists of a pile in the upper layer and it is fastened to a backing. The pile in the upper layer is traditionally made of wool, but over time materials like polypropylene, polyester or nylon are also used.

Carpets are used in households for various reasons. It works as is an insulator to a person's feet, again it also makes the room look beautiful and feel comfortable, carpet also absorbs sounds and adds a splash of colours to the room.

Hand tufted carpets are produced using wools of superior quality. The carpet resembles a work of knotted carpet. The tufted carpets do not have any knots tied to them. They are manufactured in quite a short time, which reduces the cost of production and makes the carpets cost-effective.

Tufted Carpets vs Woven Carpets

• Carpet made of the tuft is referred to as broadloom because of the width measurement. Tufts are generally created with help of several specialised multi needle sewing machines. Whereas, the woven carpets are manufactured at looms by weaving. The side facing the top of the yarn interfaces with the yarn at the back.

• The cost to be incurred in both the woven and tufted carpets are determined on several issues. Regarding a woven carpet decides its price. The price of the wool depends on the quality of the raw materials used and also the variety of stitching looked at in the carpet. On the other hand, the production of tufted carpet is much faster due to the machinery support. As a whole, it incurs quite less cost.

• The fibre content in the material of the carpet decides its longevity. Generally, a woven carpet might last up to 30 years but a tufted carpet might not provide service that long.

Materials used in Tufted Carpet

Wool is the best option for making a carpet. Though there are other four items that are also used to make a carpet. They are nylon, olefin or polypropylene, polyester and triexta.

Wool happens to be the most costlier. They are flame retardant and stain resistant naturally.

Nylon made carpets are quite popular. This is mainly due to its large variety of available colours.

Polyester is also used for making carpets. It looks woollen and hence they are very soft underwater.

Olefin is a glossy material and one of the quite cheaper fibres to afford.

The chemical composition of triexta is quite similar to polyester fibre. Though this material is more resilient and durable.

Artificial silk or art silk is also used for making carpets. This material resembles silk but is much cheaper than silk.

Trade and Commerce
There are many companies in India that that are engaged as Art Silk Hand Tufted Carpet Exporter and claims popularity throughout the country. They offer quite a competitive price for their products to their customers. These companies claim of producing varieties that cater to the different requirements of their clients. They also claim of offering products that show and display the abilities and qualities of the employees.

These companies are well equipped with spacious warehouse units, that let them store these home furnishing textiles in an absolutely safe manner. These companies also share a wide spread network fir distribution. These companies also carry out their activities following ethical operations, transparency, dedication and professionalism.
This entry was posted on October, 07, 2021 at 15 : 24 pm and is filed under Hand Tufted Carpet. You can follow any responses to this entry through the RSS 2.0 feed. You can leave a response from your own site.